| | | |
| --- | --- | --- |
| | Jerzy and Dave Roman connect the worlds of comics, graphic novels, and kid lit. Join the Kids' Comics Revolution! | |
---
Crowdfunding! Kickstarter! Self-Publishing! Getting the Word Out!

Hooray! Thanks to services Kickstarter and Indiegogo, we finally have a mechanism to fund our dream project! But is it as easy as just asking your friends or audience to support your thing? It sounds like a lot of work. And how do you avoid annoying everyone with tweets and updates during the campaign's run? Suppose I raise a boatload of money during the campaign: Do I get to keep the extra income, or does it have to go back into the project?
I'm joined by C. Spike Trotman and Laurianne Uy on how to run a successful Kickstarter campaign. Spike and Laur spill their secrets to engaging an audience, managing costs, and building a system of reward tiers that will elicit support for your dream project.
We also have our regular round of book recommendations with AADL PLA Rachel Moir!
Links mentioned in this episode:
Book Recommendations:
Live streams every other Wednesday at Comicsaregreat.tv and on Google+!
Audio hosting provided by Ka-Blam Digital Printing. This episode was recorded live at the Ann Arbor District Library.
Follow Jerzy, Spike, Laur, and Rachel on Twitter!
Jerzy on Google+
Find us on Google+
Support the show and get a PDF comic!
Subscribe through iTunes
RSS

Kids Comics Awards, Unsinkable Walker Bean, ALA GN Stage & more!

We're on the red carpet getting ready for a special awards edition of the Kids' Comics Revolution!
There are many awards for cartoonists and authors. The Harveys, The Eisners, The Ignatz, and even more in the world of children's book publishing.
And while every one of these awards are terrific honors and vehicles to introduce audiences to worthy works, might not there be room for one more award to specifically honor the authors of kids' comics?
We have a special panel discussion about the Kids' Comics Revolution! Awards recorded live at the 2013 American Library Association Conference in Chicago, Illinois. We're we are joined by Aaron Renier, author of The Unsinkable Walker Bean.
We're also joined by librarians Laura Given and Jess Stork Glicoes, who pick up the banners and sound the charge for the Kids' Comics Revolution!
Check out the KCR! Awards Ceremony held at Kids Read Comics 2013!

Photo of Jeff Kinney winner of Best Cartoonist and Best Comic/Novel Hybrid in the 2013 KCR Comics Awards!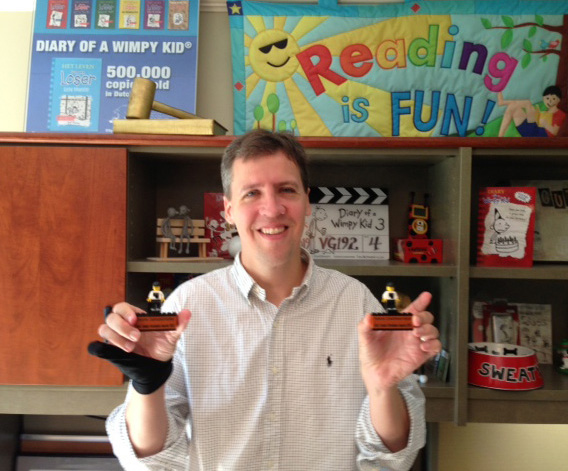 Additional Photos & Complete List of Winners in the KCR! Kids Comics Awards.
Links mentioned in this episode:
Books recommended in this episode:
This episode features a song by Moxy Früvous. Theme music by Harry and the Potters.

Today I explain my thinking process behind the design of He-Man in that big Masters of the Universe pitch I recently put together, and use it as a modeling exercise to highlight the various elements of communication in character design. If, as Dan Mishkin once said, everything in a comic is unreal, making everything real, then everything you use in your design is an opportunity to express something about your characters, their world, and the story's worldview.

Music for this show is by Eliott Drozd.
Audio hosting provided by Ka-Blam Digital Printing and IndyPlanet Digital

Voiceover by Tara Platt

Subscribe through iTunes
Listen on Stitcher

Nerdy Book Club! Kid Cartoonists! Comics in the classroom! & lots more!

We've all heard someone say "well at least they're reading," as a defense of kids' love of comics. And it's true–comics can be a great inroad to developing a love of reading.

But is that all comics offer? Or can we celebrate them for what they are?

We're joined by librarian Scott Robins, the author of A Parent's Guide to the Best Kids' Comics, and educators Colby Sharp and Brian Wyzlic of the Nerdy book Club and nErD Camp Battle Creek, who help us get past the apologies and celebrate comics for what makes them so great.
We're also joined by Eli Neiburger of the Ann Arbor District Library for some closing thoughts. And we have more book talks from Olivia and Natalia!

Links mentioned in this episode:

Books mentioned in this episode:

Audio hosting and production provided by the Ann Arbor District Library.

This episode features music by The Aquabats. Theme music by Harry and the Potters.

Follow Jerzy, Dave, and KCRpodcast on Twitter!

"It's not that we make reading fun. It's that we allow reading to be the fun that it is."
-Brian Wyzlic

Copyright! Public Domain! Fair Use, and More!


What is the benefit of working with public domain characters and stories? Is it just fun to play in "someone's sandbox," or is there a larger cultural benefit to authors building on and expanding the works of those who came before? What might happen if more creative works were to enter into the public domain? And is copyright "stealing" from the public?

I'm joined a great roundtable to help navigate these challenging questions! Barry Gregory is the man behind Ka-Blam Digital Printing (and the provider of audio hosting for this show!). Barry teamed up with Steven Butler to create Gallant Comics featuring public domain characters created by Jack Kirby, Bill Everette, and others. Kim Holm is the author of the graphic novel adaptation of H.P. Lovecraft's Pikman's Model, which you can purchase or download for free on archive.org.

We're joined later by Erin Helmrich of the Ann Arbor District Library for another round of book recommendations!

Links mentioned in this episode:

Book recommendations:

Live streams every other Wednesday at Comicsaregreat.tv and on Google+!

Audio hosting provided by Ka-Blam Digital Printing. This episode was recorded live at the Ann Arbor District Library.

Follow Jerzy, Barry, and Kim on Twitter!
Find us on Google+
Support the show and get a PDF comic!
Subscribe through iTunes
RSS


Superheroes! Batman! Superman! Dean Trippe! Dan Mishkin, and more!


Over the past years we've seen more and more summer blockbusters featuring superhero characters and stories. Are they just fashionable again, or is there something to these kinds of stories that connects us to them? What characterizes an effective superhero story? I'm grateful to be joined by two of the best sources on the topic for a walk around this idea. Dan Mishkin is the co-creator of Amethyst, Princess of Gemworld and Blue Devil (with writing credits on stories about Superman, Wonder Woman, Batman, and more) as well as one of the founders of the annual Kids Read Comics Celebration. Dean Trippe is the creator of Butterfly, co-founder of Project: Rooftop, co-host of The Last Cast, and owner of the most Batman-filled Tumblr you've ever seen. Together we have the definitive discussion on the hows and whys of superhero stories.

We're joined at the end by Erin Helmrich of the Ann Arbor District Library for another round of comics recommendations!

Links mentioned in this episode:

Book Recommendations:

Live streams every other Wednesday at Comicsaregreat.tv and on Google+!

Audio hosting provided by Ka-Blam Digital Printing. This episode was recorded live at the Ann Arbor District Library.

Follow Jerzy and Chris on Twitter!
Find us on Google+
Support the show and get a PDF comic!
Subscribe through iTunes
RSS


Pacific Rim! Jaegers! Kaiju! Dave Roman! and Spoilers!

I'm joined by Dave Roman for a talk on how the author's analytic eye affects his or her enjoyment of media. What happens when you can't stop picking at story when reading a book or watching a film? Besides making you insufferable at parties, are there any other side effects? Benefits?

Spoiler alert! Throughout our discussion we use the film Pacific Rim as a basis of meditation. So if you have not seen the movie yet and hate spoilers, I suggest you wait before listening to this episode!

Links mentioned in this episode:

Audio hosting provided by Ka-Blam Digital Printing.

Follow Jerzy and Dave on Twitter!
Find us on Google+
Support the show and get a PDF comic!
Subscribe through iTunes
RSS


On Sunday June 23rd the first ever KCR! Comics Awards ceremony was held at the Kids Read Comics Festival in Ann Arbor, Michigan. The nominees were selected by a committee of teachers, librarians, and retailers, then voted on by kids online and via paper ballots.

The awards themselves were presented as customized LEGO trophies provided by the Ann Arbor District Library, and included a mix of serious and silly categories from Best Graphic Novel to Excellence in Drawing Delicious-Looking Food.

Dave Roman and Jerzy Drozd were the hosts, and introduced all of the amazing presenters.

House band The O-Matics (fronted by Happyloo cartoonist Mark Mariano) provided live music and sound cues to help keep things moving!

Presenters included comics creators Ben Hatke (Zita the Spacegirl), Rafael Rosado (Giants Beware!), Raina Telgemeier (Smile), John Green (Teen Boat!), Dan Mishkin (Amethyst), Thomas Zahler (Love and Capes) and library superstars Scott Robins and Eli Neiburger.

As each winner was announced, the trophies were stolen by evil kidlit villain Vordak the Incomprehensible (played by the book's illustrator, John Martin)!

Guest presenters also included Aang and Naruto, performed by Kevin Coppa (Puppetbenders). Sadly, because of their felt arms, these heroes couldn't stop Vordak from continuing to take the awards from the podium!

The final award for "Best Cartoonist/Author" was presented by three talented young artists, Natalia, Olivia, and Ellie (who had also exhibited at the Kids Read Comics festival). The trio tried their best to stop Vordak but were no match for his nefarious tricks!

Luckily, the day was saved thanks to a surprise visit from Doctor Who (played by Kevin Coppa), who convinced the thieving Vordak to come along in his time traveling TARDIS and deliver the trophies to their rightful owners.

The entire ceremony was filmed in front of a live audience, and will hopefully be posted online soon!

Huge thanks to all the presenters and performers, AADL for hosting, Chris Duffy and Nickelodeon Magazine for inspiring, everyone who voted, and the teachers and librarians who encouraged kids to vote!
Let's do this again, next year!

CONTINUE FOR FULL LIST OF NOMINEES & WINNERS…

Kickstarter! Crowdfunding! Alexis Fajardo, and more!

The internet has opened the doors wide, to both published and unpublished authors. And crowdfunding services like Kickstarter have made things even more exciting.

But is it really as simple as posting a video and reward tiers to Kickstart a project? What unforeseen challenges come with these new platforms?

We're joined by Alexis Fajardo, author of the recently funded Kid Beowulf graphic novel series. Lex shares his experiences in running a Kickstarter campaign as well as the research he did leading up to the campaign's launch.

Book Recommendations:

Links mentioned:

Audio hosting and production provided by the Ann Arbor District Library.

This episode features music by Let's Audio. Theme music by Harry and the Potters.

Follow Jerzy, Dave, and Alexis on Twitter!

Designing characters with appeal, G-Man, writing from life, and more!


It's hard enough to learn how to draw, but things get even dicier when we start talking about what it takes to create appeal. Fortunately I'm joined by Chris Giarrusso of the eminently appealing G-Man series and Dave Carter of the University of Michigan comics and video game Library. Together we discuss how using kid logic, exploring character choices, and trusting your voice are essential elements to creating a story with appeal.

We've also got another round of book recommendations with Sharon Iverson of the Ann Arbor District Library!

Links mentioned in this episode (thanks to Eric Klooster for collecting them!):

Chris' G-Man commercial (a great parody of the infamous Rob Liefeld Levi's commercial)

Book Recommendations:

Live streams every other Wednesday at Comicsaregreat.tv and on Google+!

Audio hosting provided by Ka-Blam Digital Printing. This episode was recorded live at the Ann Arbor District Library.

Follow Jerzy and Chris on Twitter!
Find us on Google+
Support the show and get a PDF comic!
Subscribe through iTunes
RSS